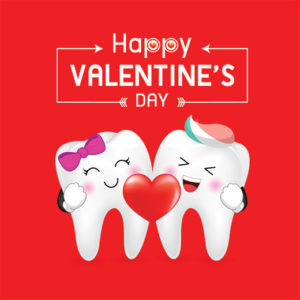 Whether you're a pre-teen, high schooler, or adult with braces, undergoing orthodontic treatment can be a big change! Though the new hardware in your mouth may not be your favorite Valentine's Day look, you should be happy knowing that you're taking proactive steps towards improving your smile and oral health. Straight teeth not only boost confidence and project friendliness, but what most people don't realize is that straight smiles are healthy smiles.
Straight teeth help to improve the overall function of your bite, make it easier for maintaining your oral hygiene, and help to prevent tooth decay and jaw pain. Here are seven tips to help you LOVE your braces this Valentine's Day and every other day of the year:
Embrace Them: Whether you're excited for your orthodontic treatment or not, it's here! Not only are your braces working to straighten your teeth, they're working to align your jaw and improve your bite for a lifetime of healthy smiles. You should be excited knowing that you're taking steps towards a beautiful and healthy smile.
Express Yourself: You may not think of your braces as a way to express yourself, but getting creative with your rubber bands can help show your style. Choose rubber band colors to match your friends, show your school spirit, or to cheer on your favorite sports team. Expressing your style with colorful rubberbands is a fun way to get excited about your adjustment appointments.
Stay on Track with Your Treatment: At Ortega Orthodontics, we have a number of different treatment options so that we can decide on the one that is best for your specific case and lifestyle. From Incognito and clear braces to Invisalign and retention, it's important to follow the instructions set out by Dr. Holland for keeping up with your treatment. Wearing your retainer, your elastics, and maintaining your oral hygiene is very important to making sure you love the result of your treatment.
Take Care Of Your Teeth: The more you take care of your teeth, the healthier your smile and the more comfortable your braces will be. Having great oral hygiene throughout your orthodontic treatment will keep your braces looking clean and will ensure that your teeth are healthy and damage free when the braces come off. Brushing and flossing everyday makes for a beautiful, shining smile.
Skip the Sugar: Even though Valentine's Day is typically filled with sugary candies and tasty treats, be sure to stick to the ones that won't stick to your braces. Foods that are especially sticky or crunchy can break your appliances, damage your teeth, and slow down your orthodontic treatment. If your sweetheart gets you a box of chocolates or a sweet snack, make sure to brush thoroughly after eating.
Smile Often: There's no reason you should be embarrassed of your braces, it's a part of life that is going to boost your confidence and can improve your overall wellbeing. Research supports that smiling helps to improve your mood, reduce stress, and make you appear more friendly, trustworthy, and attractive to others. So show off that smile with pride this Valentine's Day!
Focus on the Goal: Just when you're over wearing your braces, remember that they're going to benefit you for the rest of your life! Once your orthodontic treatment is complete, you're going to have a beautiful, straight smile that you'll be proud to show off everyday.
As your Jacksonville orthodontist, we want you to L-O-V-E your braces! We understand that orthodontic treatment is a bit of an adjustment to your oral hygiene routine and diet, but we hope that you're proud of your orthodontic treatment and your future smile. At Ortega Orthodontics we build smiles to impress and are dedicated to providing the best orthodontic care and helping our patients achieve the stunning, healthy smile they've always dreamed of having. If you're looking for a more discreet way to straighten your teeth or perhaps you're struggling with jaw pain from an improper bite, our orthodontists have the experience and knowledge to help you find the best course of treatment. To learn more about our treatment options or schedule your appointment, explore our website or give us a call today!