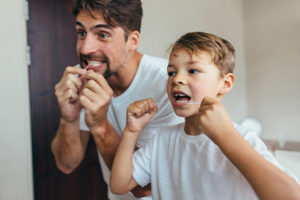 During your orthodontic treatment, maintaining proper oral hygiene is one of the most important pieces to achieving your dream smile. You're on your way to a healthier smile, but if you ignore cleaning your braces you'll be selling yourself short. Having braces may make it more difficult than usual to brush and floss, but there are tools to help you keep up! Letting your oral hygiene routine fall to the wayside can result in serious dental problems and can also hinder the results of your orthodontic treatment. Here are five reasons to maintain outstanding oral hygiene during your orthodontic treatment:
Demineralization: When food left on your teeth comes in contact with bacteria, it creates acid that leaves decalcified white spots on your teeth, oftentimes these spots are permanent. This acid robs your teeth of its calcium and phosphate and makes these decalcified spots prone to cavities and decay. While braces themselves don't cause white spots, poor oral hygiene does. Frequently brushing your teeth after eating and avoiding sugary foods and drinks will help avoid problems with developing permanent white spots.
Gingivitis: This early form of gum disease occurs when the gum tissue becomes inflamed and irritated. Swollen, bleeding gums are a sign of gingivitis, and though it's reversible it can be extremely damaging if left untreated. Problems with gingivitis can also force you wear your braces for longer. Flossing everyday and cleaning around the gum line will help to ward of gingivitis.
Sensitivity: Do you have trouble enjoying hot or cold foods? If so, you're mostly likely suffering from tooth sensitivity. Tooth sensitivity happens when the underlayer of your teeth becomes exposed from damaged gums. This part of your teeth is not protected by enamel and is more sensitive to temperature changes, making it painful to eat certain foods. Everyone can suffer from tooth sensitivity, but for those with braces it can be harder to keep teeth clean. Again, daily brushing will help keep gums and teeth healthy.
Plaque and Tartar: Plaque is a colorless, sticky film that can build up on your teeth and leads to issues with tooth decay, cavities, and other dental issues. Plaque can form in as little as 4 to 12 hours after brushing and when left on the tooth surface, plaque hardens and becomes tartar, also known as calculus. This crusty deposit can begin to form after only 24 hours and can cause stains and discoloration. While plaque can be removed with frequent brushing, tartar can only be removed at the dentist.
Bad Breath: Poor oral hygiene will quickly lead to bad breath, also known as halitosis. Bad breath developed after getting braces is typically caused by a bacteria that feeds on food particles left in your braces and causes an odor. No one wants bad breath, so be sure to brush and floss in addition to using an antibacterial mouthwash rinse for further cleaning.
When your braces come off, don't forget to clean your retainer too! Just like with your braces, plaque and tartar can build up on your retainer and lead to bad breath or dental issues. To clean your retainer you can use brushing, dental-cleaning tablets, vinegar, baking soda, or mouthwash. However, we don't recommend brushing with toothpaste because it can damage your retainer over time. Be sure to remove the appliance and clean it on a daily basis so it can do it's job for years to come.
Having a kit with a toothbrush, toothpaste, floss, and wax will make it easier to keep up with your oral hygiene regime even at school or work. Simply carry the kit in your backpack and utilize it after meals so that food doesn't sit on your teeth throughout the day. Skipping the sweets and hard or crunchy foods will also help to keep your braces in tip-top shape. To prevent oral hygiene issues, using an interdental toothbrush, rinsing with an antibacterial mouthwash, and brushing and flossing everyday will help keep your braces clean and your teeth healthy. As your Jacksonville orthodontist, we want your teeth to be beautiful and damage-free when your braces come off. If you have questions about your oral hygiene regimen during your orthodontic treatment, talk to us at your next appointment.