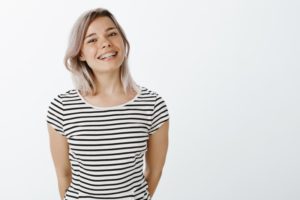 DIY braces instructions have been popping up across the internet and gaining popularity by famous vloggers. When it comes to your teeth, they're not indestructible, and attempting to do your own dental work can have serious impacts that can't be reversed. When something sounds too good to be true, it usually is, especially in this case. No amount of paper clips, super glue, and rubber bands could possibly be good for your mouth. Read on to learn about 5 reasons you shouldn't give yourself braces and why it's best to leave it to the professionals.
There are No Guarantees
Because DIY braces are being administered by yourself, there's no promises or guarantees. Even if they do manage to straighten your teeth, they'll most likely move back again. Braces that are professionally placed are specially designed to exert an exact amount of pressure onto your teeth, so they move in small and healthy increments. One of the reasons braces have a longer treatment time is because if the adjustments are made too quickly, they're more likely to move back.
So next time you see a post bragging that DIY braces can shift your teeth faster, remember the results won't last. With professional braces, you know that your teeth will remain healthy and in-tact because your orthodontist precisely manages the pressure they place on your mouth.
You Run the Risk of Losing Your Teeth
Using materials like rubber bands and hair ties to quickly shift or adjust your smile can greatly affect your tooth health. Makeshift braces can destroy the roots of your teeth and instead of just having a crooked smile, you could face tooth loss.
Because products like rubber bands are exerting an unknown amount of pressure onto your teeth, they can restrict the blood flow that's vital to keeping your teeth healthy. Ultimately, you'll have to see your dentist anyhow, but it won't be because you're looking forward to getting your straighter smile, it'll be because you need your teeth pulled.
Developing Gum Infections May Not Be the Least of Your Worries
DIY braces involve non-sterile household items like paperclips that can cause serious damage to the inside of your mouth so you easily develop infections. These items can cut your gums and damage surrounding oral tissue, making it difficult for the wounds to heal.
When gum infections spread, they can move to your blood and facial tissues resulting in serious consequences like bone loss. When this happens, you could need serious surgery in order to remove the materials from your mouth and correct the damage.
They Could Change the Way You Speak and Chew
Giving yourself braces doesn't just affect your teeth, but your entire mouth. They can cause other teeth to shift out of place, even if you didn't mean for them to. This misalignment can adjust the position of your upper and lower jaw and affect the way you are able to pronounce words and chew. It's not uncommon that you develop lisps or make it harder for yourself to sound out certain words.
In the End, It'll Cost You Way More Than What You Saved
The reason most people would consider giving themselves makeshift braces is to save money and time. In the end, you'll most likely end up paying much more to repair the damage they caused to your mouth. It'll also involve multiple trips to your dentist, especially if you find you'll need dentures, surgery, or other costly and time-consuming procedures.
If you stop and consider all the disadvantages of DIY braces, you'll easily conclude that it simply isn't worth it. Braces are an involved procedure that are meant to be done by a professional. When they are, they can deliver fantastic results without the fear of damaging your smile even more. Schedule an appointment with your local orthodontist so you can safely and effectively achieve your desired smile.
About the Author
Dr. William Holland is a fourth-generation dentist who is dual-trained as an orthodontist and prosthodontist. Dentistry is more than a career for him, it's a part of his family history. He strives to be the best at what he does and give his patients individualized care that they trust. His expertise and specialty training make him able to handle even the most complicated situations with ease. You're sure to feel safe in his care! For any questions or to schedule a consultation appointment for braces, visit Ortega Orthodontics' website or contact 904-388-4600.