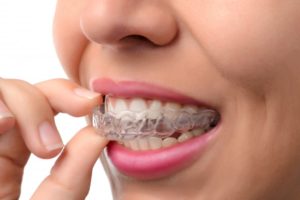 Are you getting excited about starting Invisalign treatment to get the straighter smile you've been wanting for? This modern orthodontic treatment is more comfortable and less noticeable than metal braces, but it's still a commitment that requires you to wear the aligners for at least 22 hours each day. In order to see the results you want, you'll need to power through the awkward adjustment period which typically takes place over the first week. Read on for four tips t get you through the first week of Invisalign treatment.
Treat Any Discomfort You May Have
Your clear aligners are specially crafted to assert a gentle amount of pressure on your crooked and misaligned teeth to slowly shift them into their ideal positions. This can be a new feeling to get used to, especially within the first week. You'll probably notice that your teeth and jaw will feel sore. You can help combat this by doing chewing exercises every day. Getting your blood flowing can be a natural pain reliever and help break in your trays.
Keep Track of How Long Your Aligners Are in Your Mouth
Your body won't be the only thing that needs to adjust to your new Invisalign aligners. You'll need to change up your lifestyle a little bit as well. When you first get your trays, it may be tempting to remove them whenever you don't want them in. However, like all orthodontic treatments, you'll need to use them in order to see the results you're hoping for. Because you'll need to get used to wearing them for at least 22 hours each day, it's best to keep track of how long you wear them for the first week, and get yourself in a routine of how that feels.
Learn to Remove Your Aligners Safely
You'll be removing your aligners multiple times throughout the day to eat, brush, and floss, which is why it's important to know how to do it in a safe and sanitary way. Be sure to always have a small case to hold your trays in. This way, you won't ever have to worry about losing or misplacing them. As your treatment progresses, your trays will get increasingly more snug, which means you'll need to find new ways to take them out of your mouth to avoid nail gashes and damage. There are different tools you can use, so ask your orthodontist if they have any recommendations.
Start A Daily Routine
During the first week of your Invisalign treatment, it's important to create a daily routine that becomes a habit. This includes regularly brushing and flossing your teeth after each time you eat, sanitizing your aligners, and rinsing them of any food particles and debris. Good habits are an important part of maintaining your oral health while you're undergoing treatment.
Starting your journey towards a straighter and healthier smile may seem overwhelming at first, but just stick with it by following these tips and you'll be fine! Creating healthy habits during the first week or so of your treatment can make the remaining months easier. If you have any questions about keeping your aligners in great shape, don't hesitate to ask your orthodontist.
About the Author
Dr. William Holland is a fourth-generation dentist who is proud to be serving the community of Jacksonville, where he grew up. He's passionate about helping patients of all ages achieve healthier and straighter smiles through orthodontic treatments such as Invisalign. To him, dentistry is more than just a profession, it's a family tradition of providing patients with the individualized, high-quality care they deserve. For questions or to schedule a consultation for Invisalign, visit Ortega Orthodontics' website or contact 904-388-4600.