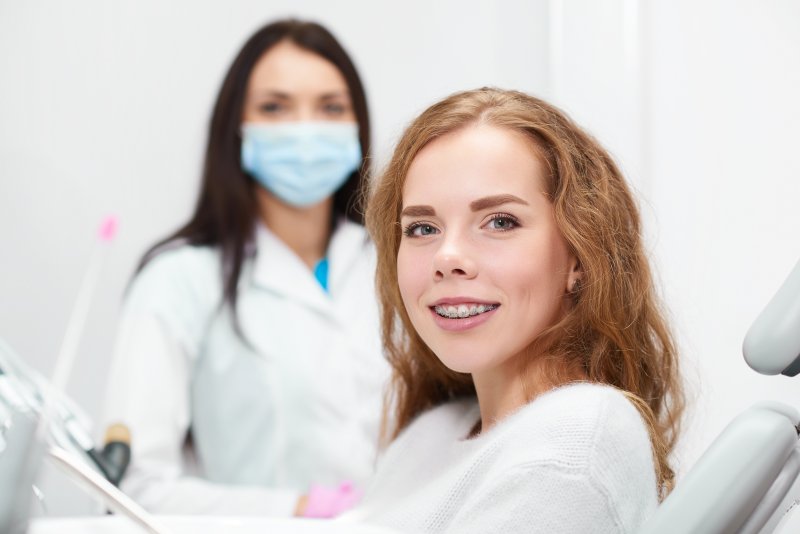 When you first get braces, the excitement of straightening your teeth may cause you to brush diligently, floss daily, and attend every follow-up appointment. However, after a couple of months of treatment, your previous enthusiasm may wane. In fact, you may even be tempted to skip your routine adjustment visits altogether. If you've found yourself considering something similar, then read on as an orthodontist in Jacksonville shares the importance of follow-up appointments, the dangers of damaged braces, and what to do in an orthodontic emergency.
Why Are Follow-Up Appointments Important?
Over the course of your treatment, it's natural to miss an appointment from time to time. However, it is important to remember that these visits are a crucial component of your overall treatment plan. In fact, without these adjustments, your braces will not administer the proper force on your teeth, which will bring your progress to a halt. Plus, frequently visiting your orthodontist allows them to address any unanticipated problems or adjust teeth that are not moving the way they should. Therefore, do your best to never miss an appointment and reschedule it ASAP on the occasion you do have to cancel.
The Dangers of Damaged Orthodontics
If a metal bracket becomes loose or a wire breaks, your initial reaction may be to wait until your next appointment to seek treatment. However, the damaged braces can easily injure your gums or oral tissue, which can lead to everything from mild discomfort to sharp pain. Not to mention that damaged orthodontics significantly impact your timeline, leading to additional weeks or months of treatment before getting the results you desire.
What to Do in an Orthodontic Emergency
If a bracket cracks, your trays break, or another orthodontic emergency arises, you should schedule an appointment with your orthodontist right away. Over the phone, their team can walk you through what to do in each scenario – from saving a broken band to providing first aid instructions. Whether you need a minor repair or a whole new appliance, they will work with you to ensure you get the treatment you need quickly and are back on track with your timeline in no time.
Over your months or years of treatment, routine appointments can become less exciting. However, they are paramount in each phase of your journey with braces, so make them a priority!
About the Author
Dr. William "Vaughn" Holland is a fourth-generation dentist who graduated Magna Cum Laude from the University of Florida College of Dentistry. From there, he completed a five-year specialty program in Prosthodontics and Orthodontics, which makes him one of only ten such specialists in the U.S.! He is also an active member of the American Association of Orthodontists and is a recipient of multiple prestigious awards, including the American College of Prosthodontics Student Achievement Award. If you are interested in getting braces or need an emergency orthodontist in Jacksonville, visit his website or give him a call at 904-388-4600.