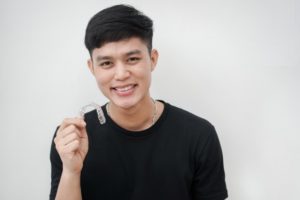 Every year, more and more adults and teenagers choose to fix their crooked teeth with Invisalign and other clear aligners instead of traditional braces, and it's not hard to see why. Invisalign is usually more comfortable than braces, and the aligners are virtually unnoticeable and easily removable. However, this treatment still requires some effort on your part; you have to keep the trays in good condition for them to work properly. Continue reading to learn four simple tips for taking care of clear aligners in Jacksonville.
Remove Your Trays Before Eating or Drinking
It's fine to drink plain water while your aligners are in, but you should take them out before you eat or drink anything else. Hot beverages, like coffee or tea, could not only warp the plastic and make them not fit properly, but it could also stain them. The pressure of chewing may also damage the aligners to the point that they crack. To keep your aligners looking seamless and able to complete your treatment on time, always remove them for meals, snacks, and beverages.
Put the Aligners Back on Clean Teeth
After you're done eating or drinking, it's crucial that you brush and floss your teeth before putting the trays back in your mouth. Otherwise, food particles may get trapped between your aligners and your teeth. Not only can this result in bad breath, but it can attract harmful bacteria that cause cavities and gum infections. Get in the habit of carrying a travel-sized toothbrush and floss on your person throughout your Invisalign treatment.
Clean Your Aligners Regularly
It's not enough to just keep your teeth clean; you also need to sanitize your trays to prevent bad breath and other oral health issues. Rinse off the aligners with cold water (hot water can alter their shape) and let them soak in an Invisalign cleaning solution for a few minutes. Ideally, this should occur twice a day. Adding this step to your morning and nightly oral hygiene routine can make it easier to remember.
Store the Trays Properly
Leaving your aligners unattended in the open air makes it all too easy for them to get dirty, damaged, or lost. That's why, whenever you remove your trays, make sure to store them in their protective case. Taking this case with you at all times is a good way to minimize the risk of harming your aligners. If you do end up accidentally leaving them out, be sure to thoroughly clean them before placing them back in your mouth!
One of the main benefits of Invisalign over braces is their ability to practically disappear when worn. If you don't take good care of your clear aligners in Jacksonville, then discoloration, odors, and cavities may be in your future. By following these tips, you can come out on the other side of your Invisalign treatment with a smile that not only looks great, but feels healthy too!
About the Author
After graduating magna cum laude from the University of Florida College of Dentistry, Dr. William "Vaughn" Holland pursued a five-year dual-specialty program from the same university in both orthodontics and prosthodontics. He is one of only about ten dentists in the United States to achieve this distinction! At Ortega Orthodontics, Dr. Holland provides a variety of orthodontic services to children, teens, and adults, including Invisalign clear aligners in Jacksonville. To learn more about the benefits of Invisalign, visit his website or give him a call at 904-388-4600.