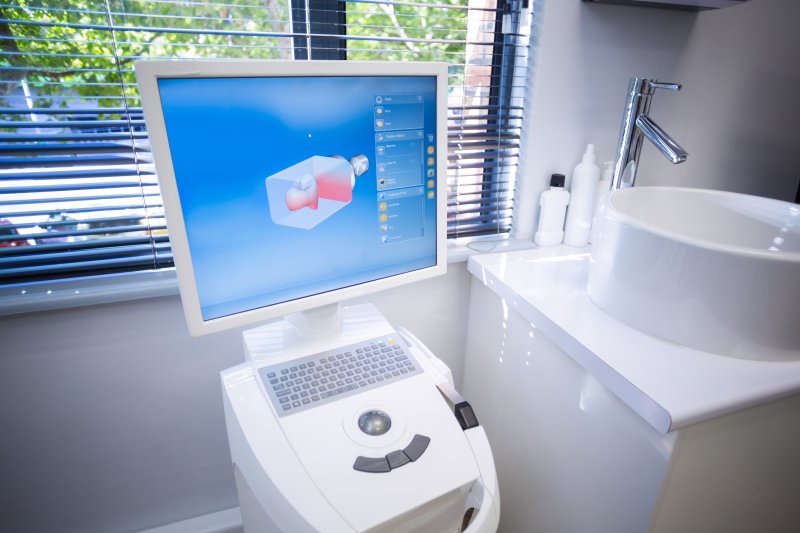 If you haven't visited an orthodontist since you were a child, you may be surprised to see just how much has changed in a relatively short amount of time. Technology has transformed the way that orthodontists approach different aspects of the orthodontic process. One notable difference is how impressions are taken. Whereas orthodontists once had to rely on odd-tasting, messy dental putty, now they can use systems such as the iTero® Digital Scanner to create more reliable digital models of the teeth and gums. Read on to learn more about how iTero is used in orthodontics in Jacksonville.
What is iTero?
The iTero scanner uses state of the art optical technology to capture images of the teeth and gums. It is shaped like a wand, allowing your orthodontist to easily scan the entire mouth from different angles. The scans are completely safe and emit no radiation; they are also very efficient and can be completed in just two or three minutes. Once all of the necessary images have been captured, a 3D digital impression of your teeth and surrounding dental structures will be created.
How is iTero Used in Orthodontics?
Whether you're getting traditional braces or clear aligners, having impressions taken is a necessary first step. No two smiles are alike, and the movements needed to straighten your teeth and correct your bite will be different for everyone. As such, a model of your teeth is needed in order to plan the treatment and create orthodontic appliances that are suitable for your specific grin.
While traditional dental putty impressions have been used for years, they have always had a number of drawbacks. For one thing, many patients don't like the case and often end up gagging as a result of holding bulky impression material in their mouths. For another, physical impressions often have mistakes and need to be retaken as a result, which slows down the entire orthodontic process.
This is where iTero comes in. There's no longer any need to worry about dental putty when all you need to do is hold still for a few minutes while the orthodontist takes the scan. The process is much faster as a result, and patients stay comfortable throughout the whole thing. Digital impressions are also far less prone to error, meaning they're less likely to need to be redone and ultimately lead to more positive treatment outcomes.
Finding an orthodontist with an iTero scanner could end up improving your entire orthodontic experience. When choosing a potential orthodontic office, make sure you take the time to learn more about the technology that they use. An office that stays up to date with the current trends is one that you can trust to provide the best that orthodontics has to offer!
About the Author
Dr. William "Vaughn" Holland grew up less than two miles from Ortega Orthodontics's current location. He is proud to be able to help create straighter, healthier smiles in his community thanks to his extra specialty training and state of the art technology. To learn more about iTero and other types of orthodontic technology used at our Jacksonville office, visit our website or call (904) 388-4600.