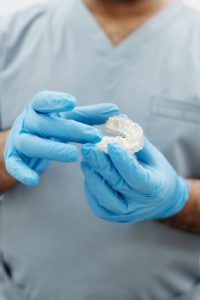 Did you know crowded or gapped teeth aren't the only reasons people need braces? The positions of your teeth are important for more than just an attractive smile. They can affect the relationship between the upper and lower arches. Although bite problems can take many forms, an overbite is a common concern. Humans have a slight overbite naturally. However, if the top teeth extend over the bottom arch too much, it can cause serious complications to your oral health and quality of life. Here are 4 reasons to consider fixing your overbite.
1. Prevent Future Dental Problems
Every case differs, but many patients with an overbite have mostly aligned top teeth. Although your smile might look straight, the positions of your teeth can cause enamel loss from rubbing against one another. Your enamel is the hardest substance in your body that protects the inner layers of your teeth. Unfortunately, your enamel can't regenerate. Once it's gone, you've lost it for good. Fixing your bite can lower your risk of tooth sensitivity, cavities, tooth discoloration, and fractures. You'll safeguard your enamel to preserve your natural smile and reduce future oral health expenses.
2. Prevent TMJ and Jaw Pain
Your temporomandibular joint (TMJ) connects your lower jaw to your skull on either side of your face. It allows you to perform simple tasks, like speaking, eating, and yawning. A bad bite can damage or irritate the joint, which can lead to jaw pain or a TMJ disorder. You can experience a variety of symptoms that can affect your daily life, like facial pain, headaches, and ringing in the ears. You may even struggle to eat. Correcting an overbite takes stress and pressure off the joint by allowing your jaw to rest in a more natural position.
3. Improve Your Facial Features
An overbite can affect your appearance. The lower jawbone can sit too far back from the upper arch. This can make your cheekbones and chin less pronounced. You don't have to turn to plastic to balance your facial features. Invisalign is a discrete solution to correct your facial structures by giving you a sharper jawline to look younger and thinner.
4. Correct Speech Impediments
Your bite can affect your speech if your tongue doesn't hit the roof of your mouth or teeth correctly. Certain letter sounds and words can be challenging to pronounce. Braces can remove your communication barriers and increase your confidence to ensure nothing is left unsaid.
If you're ready to invest in a straight, balanced smile, your orthodontist has the solution for you. Ask your orthodontist how they can improve your bite without any brackets or wires.
About Dr. William Holland
Dr. Holland is a 4th generation dentist with a passion for orthodontics. After earning his dental degree at the University of Florida College of Dentistry, he continued his training for 5 years to focus on both prosthodontics and orthodontics. He has the advanced qualifications you can trust to treat complex oral health issues. Contact our office today to schedule your consultation to fix your overbite.