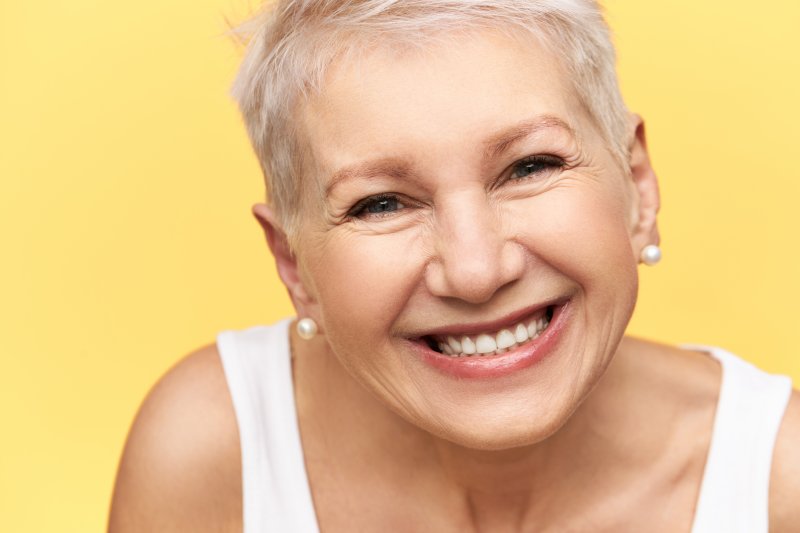 Have you always wanted to have a straighter smile? If you didn't get orthodontic treatment when you were younger, you might assume that you've missed your opportunity. However, this couldn't be further from the truth. You're never too old to begin straightening your pearly whites, especially with Invisalign. Read on to learn why this treatment can still be an option for you and about the benefits you'll be able to enjoy!
Am I Too Old for Invisalign?
Most people associate orthodontic procedures with children and teenagers, as these are the main populations seen straightening their smiles. While it may take a bit longer, adults and even seniors can straighten their pearly whites comfortably and reliably with this treatment. With the proper amount of pressure, your orthodontist can still shift your smile into a more desirable position with Invisalign no matter your age. As long as you wear and preserve your clear aligners as directed, you can be sure to achieve the results you're hoping for.
How Long Will My Treatment Last?
On average, Invisalign can take 12 to 18 months to complete. The timeframe for your treatment can vary depending on several factors, such as the severity of your misalignment and how many aligners you'll need. People who have had braces in the past or only require a touch-up might finish their process in around six months! For patients with more complex crowding or bite issues (overbite, underbite, crossbite, etc.), the treatment can take longer.
The Benefits of Invisalign for Adults
Other than achieving a perfectly straight smile, you'll be able to enjoy several other advantages with Invisalign, including:
Reduced risk of jawbone and tooth loss: With more ideal spacing between your teeth, you can lower your chances of losing bone tissue in your jaw, which can cause discomfort and tooth loss.
Increased self-esteem: Once you have the straightened smile you've always wanted, you'll feel more comfortable showing it off. This can boost your confidence and enhance your quality of life, which can positively affect your professional career and social life!
Improved overall well-being: Having straighter teeth makes it easier to maintain a clean and healthy smile. Not only will you be better able to avoid cavities and gum disease, but research also shows that those with strong oral health also experience much lower rates of diabetes and heart disease.
Regardless of your age, feel free to speak with an orthodontist if you're interested in Invisalign. They'll be happy to discuss your options and get you started on straightening your pearly whites!  
About the Author
Dr. William Holland earned his dental doctorate from the University of Florida College of Dentistry, and he regularly seeks advanced training to refine his techniques. He's also a proud member of several groups like the American Dental Associations, the Florida Dental Association, and the Florida Association of Orthodontists. He provides multiple high-quality and comprehensive treatments, including Invisalign. If you'd like to schedule a consultation with your orthodontist, visit his website or call him at 904-388-4600.