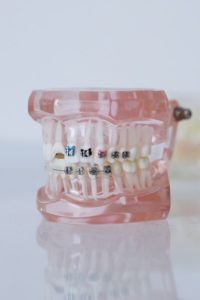 Few people have naturally straight teeth. If you didn't hit the genetic jackpot or you've experienced orthodontic regression, your orthodontist can fix gapped, rotated, or overcrowded teeth with traditional braces. They'll create the healthy, attractive smile you desire, no matter the severity of your alignment concerns. If you only have a few teeth out of position on the top or bottom, you may be wondering if you need to waste time and money treating both arches. Although you may not believe you need braces for the top and bottom, single-arch treatment is rare. While it's entirely possible to put braces on just one arch, here's why your orthodontist will advise against it. 
How Do Metal Braces Work?
Metal braces have been used for generations to create confident smiles. Brackets are applied to the teeth to hold an arch wire that's secured with elastics. This applies consistent pressure to reposition your teeth. Periodic adjustments are made to fix several bite and alignment problems. Although you might believe aesthetics are the only reason for braces, orthodontics also improve your dental health. Properly aligned teeth are easier to keep clean, reducing your risk of common oral health issues, like tooth decay and gum disease. You will avoid needing treatment for reduced future dental expenses.
Risks of Single Arch Treatment
The positions of your teeth affect more than just aesthetics. They also affect the relationship between your upper and lower teeth. Alignment issues can cause an unbalanced bite, which can lead to various problems, like enamel erosion or TMJ disorders. Moving only one arch can alter your bite, changing the way your teeth come together. Single arch treatment may save time and money initially, but it can lead to expensive complications later.
Am I a Candidate for Single Arch Treatment?
Every situation differs, but most orthodontists will recommend using braces on the top and bottom at the same time. In rare situations, minor issues can be fixed without needing braces on the top and bottom. It can be recommended for patients with superficial concerns, like:
Mild crookedness
Misaligned smile zone
Orthodontic relapse
Mild to moderate gapping or spacing
Besides braces, you may have other options, like veneers. If you only need minor adjustments on one arch, like closing gaps between front teeth, veneers can fix the space without requiring brackets or wires.
Your orthodontist will help you achieve a healthy, confident smile that you'll be proud of using a personalized treatment plan. Whether metal braces or clear aligners, you can invest in the smile you deserve with the latest advancements in orthodontics.
About Dr. William Holland
Dr. Holland is a 4th generation dentist, earning his dental degree at the University of Florida College of Dentistry. He continued his training in orthodontics and prosthodontics to create healthy, functional smiles that last. Dr. Hollard has training and qualifications you can trust to handle the most complex orthodontic cases, including single arch treatment. Contact our office today to request your consultation.