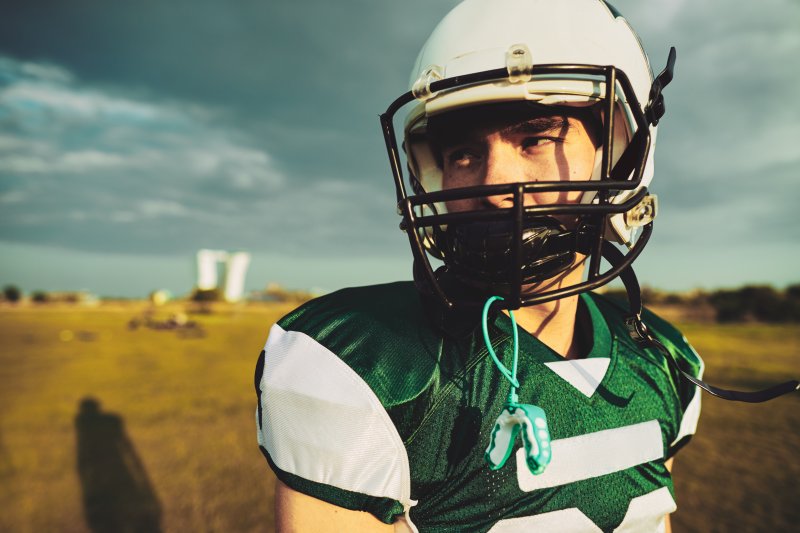 Do you typically enjoy playing a casual game of football or soccer with your friends? Are you part of a professional team? While sports are an incredible way to build a community and promote fitness, you may be wondering if you can still participate in them if you have braces. The good news is that orthodontic treatment won't have to get in the way of your physical activities. Read on to learn what you should expect when playing sports with braces!
Can I Still Play Sports with Braces?
In short, you can still enjoy your favorite sports even if you're undergoing orthodontic treatment. Thanks to Invisalign clear aligners, you'll be able to easily store your braces within a protective case while you play. As long as you continue your 20-22 hours a day wear time afterward, you should remain on track with your orthodontic process. Even if you require traditional braces to straighten your smile, you won't have to worry much about it. The metal brackets and wires may need additional care to maintain, but they won't keep you from enjoying your chosen sport.
How Can I Keep My Smile Safe?
While braces shouldn't prevent you from participating in physical activities, the last thing you'd want is for a dental-related injury to disrupt your treatment plan, such as a knocked-out tooth. To avoid any complications, several preventive measures can help effectively protect your smile. Firstly, you should always wear a mouthguard, even for non-contact sports. Not only will this cushion your teeth, but it'll also prevent soft tissue injuries, broken brackets, and other dental emergencies. Secondly, you'll want to prioritize a solid oral hygiene routine every day to preserve strong and healthy teeth and gums. This should always involve brushing twice a day for two minutes, flossing daily, avoiding sugary snacks or drinks, and scheduling dental checkups and cleanings every six months.
What Should I Do If I Break My Braces?
If you break your braces, there's no need to panic. Instead, follow these simple steps:
Check the severity of the damage, as life-threatening conditions (like a broken jaw or difficulty breathing) will require a visit to your nearest ER.
Notify your dental team and schedule an emergency appointment.
Collect any broken pieces to bring to your visit.
Rinse with a mix of salt and warm water.
Take over-the-counter pain relievers.
Place a cold compress/ice pack on the outside of your cheek.
Undergoing orthodontic treatment doesn't mean you'll have to forego your favorite sports. Keep these preventive tips in mind, and you can be sure to breeze through an effective and comfortable process for a straighter smile!
About the Author
Dr. William Holland is an orthodontist who earned his dental degree from the University of Florida College of Dentistry. He's also a proud member of numerous organizations such as the American Dental Association and the Florida Association of Orthodontists. He provides a wide range of high-quality and comprehensive services, including traditional braces and Invisalign. If you'd like to schedule a consultation, visit his website or call 904-388-4600.