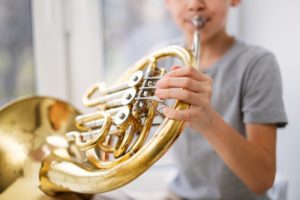 Modern orthodontics offer the opportunity to give you the smile of your dreams. Whether you have crooked, overcrowded, or misaligned teeth, braces are a go-to solution to fix your pearly whites. But will you still be able to play wind instruments while undergoing the treatment? The answer is yes! Keep reading to learn three tips on how you can still enjoy playing your favorite tunes.
Tip #1: Apply Dental Wax
Dental wax is a common tool that is used when you wear braces. This pliable substance is designed to soften the edges of the brackets and wire that may cause irritation or scratch your oral tissues. The soothing effects of orthodontic wax are useful to all those who are undergoing orthodontic treatment, but it is essential for those who enjoy playing wind instruments.
Useing the mouthpiece of instruments such as flutes, clarinets, or saxophones can put pressure on your braces, which then irritate the soft tissues of the cheeks and gums. This can eventually lead to cuts and sores. Orthodontic wax will provide a protective shield so you can play your instrument while remaining as comfortable as possible.
Tip #2: Add Extra Hours of Practice
Whether you are a novice or have many years of playing behind you, it will be an adjustment to play your instrument after you begin your braces treatment. This is where the adage "practice makes perfect" comes into play! With extra practice, you can give yourself time to adjust to your orthodontics and learn how to make them as comfortable as possible.
You can always break up your practice sessions into smaller chunks of time. This will increase your proficiency, as well as give your lips some time to recover. In due time, there will be ease and confidence in playing your chosen instrument while wearing braces!
Tip #3: Consider Metal-Free Orthodontics
While traditional braces do an amazing job of accomplishing your smile goals, the protruding metal may bother you regarding certain aspects of being a musician. Perhaps you have a major recital coming up or play music on a very consistent basis as a career. An alternative orthodontic option is clear braces. This treatment uses a series of clear aligners over a period of time that move the teeth into the desired place. While they add aesthetic appeal due to their transparent look, they can be helpful to musicians since they can be removed. It is important to note that while they can be taken out of the mouth anytime, it is recommended to wear them at least 20-22 hours a day to keep your treatment on track. Depending on your situation, clear aligners can be just as effective as metal braces.
Braces can get you on the road to a straighter, more beautiful smile. By keeping these tips in mind, you can still play your musical instrument, too!
About the Author
Dr. William Holland and his team at Ortega Orthodontics serve the families of Jacksonville and the surrounding areas. Along with his many academic accomplishments, he completed a specialty program in Prosthodontics and Orthodontics at the University of Florida College of dentistry, making him one of approximately ten such specialists in the United States. With a 5-star rating from over 300 reviews, his goal is to help you achieve a healthy, straight smile with braces or other orthodontics! To schedule an appointment, contact him through his website or call (904) 388-4600.