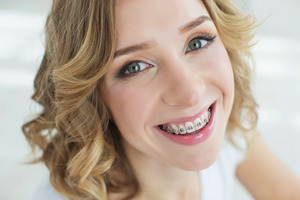 Straightening your teeth with braces can make them more attractive, but it's a mistake to think that orthodontics is only about making aesthetic improvements. The truth is that braces can improve your health in a variety of ways, especially if they're used to address a specific underlying issue. Below are 5 ways that your mouth and body can benefit from orthodontic treatment.
1. Relief from TMJ Disorder
Crooked teeth and misaligned jaws can put an excessive amount of pressure on your temporomandibular joints (TMJs). Over time, this can result in a TMJ disorder that causes persistent jaw pain and various other symptoms. Braces can be used to correct the bite issues that contribute to TMJ disorder, thus allowing you to avoid the discomfort associated with it.
2. Reduced Risk of Gum Disease and Cavities
When the teeth aren't properly aligned, it can be very difficult to clean between them. This gives harmful bacteria a chance to multiply in these areas, leading to tooth decay and gum disease. But once you straighten your smile with braces, it becomes much easier to clean between the teeth with dental floss, thus helping you maintain good oral hygiene.
3. Protection for the Teeth
The teeth need to be evenly spaced so that they can properly distribute the forces of biting and chewing throughout your mouth. If your teeth are crooked or overlap, some areas might be more exposed to these forces than others. Consequently, you'll be more likely to crack or break a tooth by accident. By straightening your teeth with braces, you can restore balance to your bite and reduce the chances of dental damage.
4. Improved Digestive Health
You may not realize it, but the way your teeth and jaws are aligned can make it more difficult to chew as thoroughly as you need to. This is because alignment issues often leave entire sections of the mouth unable to break down food the way they should. Improperly chewed food is generally harder to digest, leading to intestinal distress, irritable bowels, and other problems. After using braces to properly align your smile, you'll be able to chew your food correctly, making digestive issues less likely to occur.
5. Prevention of Bone Erosion in the Jaw
When misalignment issues prevent you from chewing properly, certain teeth might not give the jawbone the stimulation that it needs to stay healthy, resulting in bone loss in certain areas. Correcting your alignment problems with braces helps ensure that every part of the jaw receives the exercise it needs to maintain itself.
With orthodontic treatment performed by an expert, you can address any alignment problems in your smile before they lead to major health complications.
About the Author
Dr. William "Vaughn" Holland completed a five-year specialty program in both Prosthodontics and Orthodontics at the University of Florida College of Dentistry. His extensive training makes him uniquely qualified for dealing with a wide variety of complex orthodontic cases. At Ortega Orthodontics in Jacksonville, he helps patients of all ages achieve straighter smiles with traditional braces. To schedule a consultation with Dr. Holland, visit his website or call (904) 388-4600.