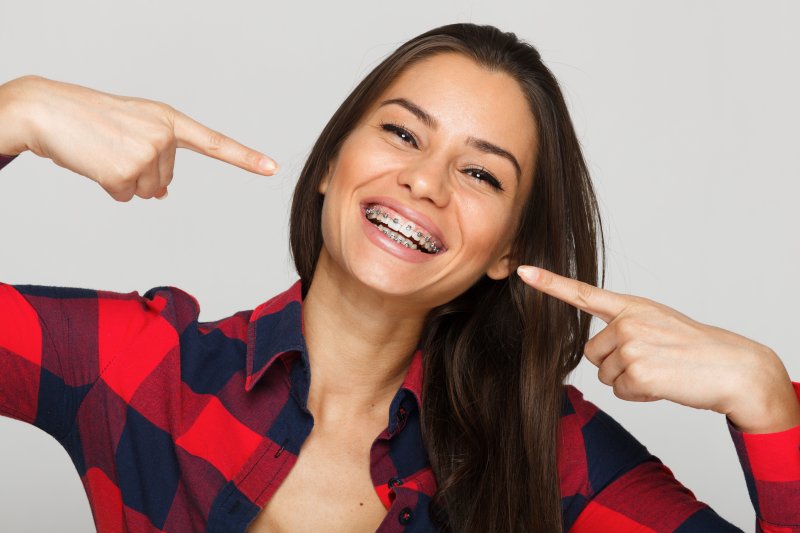 As you start wearing braces, you'll likely feel excited about your future smile. Treatment, after all, is sure to straighten and align it! In the meantime, though, you may find that braces make your teeth feel loose. Luckily, there's no need to worry – the appliance won't cause any pearly whites to fall out. In fact, that loose feeling is to be expected! If you'd like to learn more, let your local orthodontist explain. Here's a summary of why braces can cause teeth to feel loose and how this effect is normal.
Some Context: How Braces Work
If you don't already know, braces are an appliance that shifts and aligns teeth. They're made up of brackets cemented to the fronts of teeth and a wire running through said brackets.
Braces work by putting pressure on all your pearly whites. Namely, their wire presses on your teeth while their brackets hold the strand in place. Each tooth thus moves from its original position into a slightly different one. An orthodontist will even adjust the wire to ensure this process goes smoothly.
So, Why Do Braces Make Teeth Feel Loose?
Technically, teeth may feel loose with braces because they *are* loose. The treatment process causes them to shift slowly but surely.
You see, treated teeth remain attached to your jaw's periodontal ligament. However, braces still stretch and compress them to create new, wider spaces for each one. The result is that your pearly whites feel loose as they move from one place to another. Once your whole smile is in its new position, and your bone is rebuilt, the sensation will fade quickly.
In other words, feeling your teeth move with braces is normal. It's a sign your treatment is working.
There's No Reason to Worry
Rest assured: the loose feeling in your teeth doesn't mean they'll fall out. Braces don't have that sort of effect.
Braces do loosen teeth a bit, but not a lot. The pressure they apply is slow and gradual, thus ensuring they won't dislodge your chompers. To that extent, the appliance only causes a minimal amount of loosening.
Honestly, teeth could only fall out with braces if you already had poor oral hygiene. It's thus crucial to keep them clean during your orthodontic journey.
Ultimately, it's normal for braces to make teeth feel loose. As long as you practice good oral care and see your orthodontist often, they'll be fine!
About the Practice
Ortega Orthodontics is based in Jacksonville, FL. Led by Dr. William "Vaughn" Holland, our practice works to give you the best orthodontic care possible. To that end, we offer a variety of braces, clear aligners, and other oral appliances. Our team can even perform orthognathic surgery and treat orthodontic emergencies! For more information or to book a visit, you can reach us on our website or by phone at (904)-388-4600.