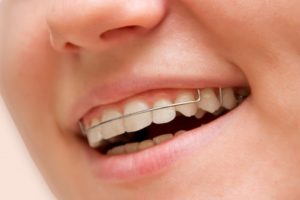 If you have just finished your orthodontic treatment, you are most likely excited to be free from your traditional braces or clear aligners. Now it is time for maintenance and prevention to keep your teeth in their newly aligned spots. By wearing your retainer for the recommended amount of time, you are ensuring your new smile will last for years to come. However, you want to be sure to take care of it so you can get the most out of your treatment. Read on to learn about the five best habits to keep your retainer (and smile!) in great shape.
#1. Clean Your Retainer Regularly
Just like your pearly whites, you will have to regularly clean your retainer to keep tartar from building up on the surface of it. In between wearing it, gently scrub your retainer with a toothbrush and water. Just be sure to not use toothpaste! It can be abrasive and cause damage to your retainer. This could not only impact how it fits but also make it difficult to keep clean.
#2. Avoid Eating While Wearing Your Retainer
It's important to always remove your retainer before eating to prevent food debris and plaque from becoming trapped in your mouth. Not only could this habit cause harm to it, but it could also increase your chances of oral health issues. When taking your retainer out, be sure to loosen it in several places, then slowly ease it off. You don't want to twist it with your tongue or pull it to one side as it could get damaged.
#3. Avoid Cleaning Your Retainer with Harsh Chemicals
Generally, just a toothbrush and water are enough for to keep your retainer clean. However, if you want to give it a deeper clean, you can soak it in a solution of water mixed with baking soda, mild vinegar, or denture tablets. These ingredients are safe to use for additional sanitization but be sure to avoid bleach or alcohol-based mouthwash. They can ruin your retainer's plastic…and your smile!
#4. Properly Store Your Retainer
While it might seem like common sense to keep your retainer in a safe place, life can get hectic, and misplacing it is a common occurrence with people! Always carry your specialized case with you in your purse or bag so you can place it in there when you remove your retainer. Additionally, be mindful to keep it out of reach of dogs or children as they cause accidental damage to your retainer.
#5. Brush Your Teeth Before and After Wearing Your Retainer
To keep your retainer and your smile in great condition, make it a consistent habit to brush your teeth before and after putting on your retainer. Placing your oral appliance on dirty teeth will only cause it to become stained and unhygienic as well. You want to be sure to keep your retainer and pearly whites free from bad bacteria so your smile can be bright and healthy when you no longer need your orthodontic!
About the Author
Dr. William Holland and his team at Ortega Orthodontics keep the smiles of Jacksonville beautiful and healthy. Along with his many academic accomplishments, he completed a specialty program in Prosthodontics and Orthodontics at the University of Florida College of dentistry, making him one of approximately ten such specialists in the United States. With a 5-star rating from over 300 reviews, he can help you achieve and maintain your straightened smile for years to come. To schedule an appointment, contact him through his website or call  (904) 388-4600.