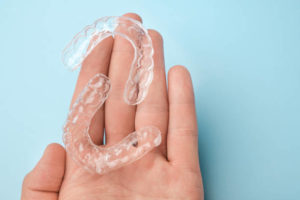 If you had braces as a teen, you might be surprised to see your smile isn't as straight as it used to be. It's not unusual for teeth to move over the years, especially if you haven't been wearing retainers. You don't have to live with the changes because you can get braces again. However, this time you won't have to worry about any brackets or wires because you can benefit from the clear choice in orthodontics with aligners.
You're Never Too Old for a Straight Smile
There's no age limit for achieving a healthy, straight smile. 1 in 5 orthodontic patients is over the age of 18, thanks to a variety of treatment options, like clear aligners. They can fix a variety of bite and alignment issues using a sophisticated solution for adults who don't want to compromise their professional image.
You won't have to worry about wearing aligners forever. They provide lasting results after about 12 months.
Invest in a Discreet Solution
Traditional braces use a system of wires and brackets to pull your teeth into position. Although it is effective, braces are attributed to a juvenile appearance.
Clear aligners differ because they are worn over your teeth to apply continual pressure to move them gradually. You must commit to wearing them for at least 22 hours per day and switching to the next set of aligners every 1 to 2 weeks, as instructed by yourself.
Benefits of Clear Aligners
When compared to metal braces, the benefits of clear aligners are unmatched, which include:
Virtually Undetectable: Clear aligners are very hard to detect when worn over your teeth. You don't have to worry about unwanted attention drawn to your smile.
Comfortable: Clear aligners fit like a glove, so they won't slip or fall out. You won't have any irritation to the insides of your lips or cheeks because they are smooth.
No Dietary Restrictions: You don't have to skip your favorite foods because your aligners are removable. Just don't forget to put them back in your mouth.
Less Time in the Dentist's Chair: You won't need adjustments, so you'll spend less time in the dentist's chair. However, you will need to check in with your orthodontist every few weeks, so they can monitor the movement of your teeth.
Easy Maintenance and Care: You won't have to brush and floss around brackets and wires. Your oral hygiene routine will remain virtually unchanged.
Affordable: Dental insurance can be used to offset the amount you will pay out-of-pocket after meeting your deductible.
Don't be alarmed if you need braces twice. Your orthodontist has a perfect solution to turn back the clock to enjoy a straight smile.
About Dr. William Holland
Dr. Holland earned his dental degree at the University of Florida College of Dentistry and has completed a 5-year dual specialty program in prosthodontics and orthodontics. He holds memberships with many professional organizations, including the American Association of Orthodontists. If you're interested in clear aligners, request an appointment through our website or call (904) 513-1926.