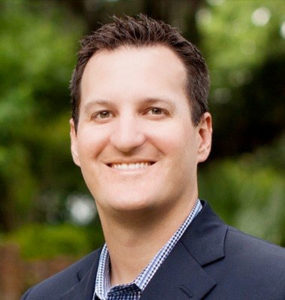 As your resource for orthodontics in Jacksonville, our entire staff is dedicated to bringing our patients the highest standard of care and smiles that impress! Straight smiles are healthy smiles, but they also help to boost confidence and project friendliness. The team at Ortega Orthodontics works to combine our ever-evolving knowledge and experience with our compassion for crafting dream smiles to create the best patient experience possible. Your stunning, confident smile starts with our highly qualified and caring orthodontist, Dr. Holland. 
Meet the Doctor:
Dr. William "Vaughn" Holland:
Dr. Holland is a fourth generation dentist who grew up only two miles away from our office. He is a proud alumni of John Stockton Elementary, James Weldon Johnson, and Stanton College Preparatory School. Dr. Holland graduated Cum Laude from the University of Florida with a Bachelor of Science degree in Food Science and Human Nutrition and continued his education at the University of Florida College of Dentistry where he graduated Magna Cum Laude. He is one of less than ten doctors in the United States to be selected to pursue a customized dual speciality program in both Prosthodontics and Orthodontics.
Though he has decided to limit his practice to orthodontics, his extensive training qualifies him for the more complicated and unique cases. His passion lies in both restorative dentistry and orthodontics, which he carries out everyday by providing his patients with every available treatment option to achieve the best aesthetic and functional results. In his free time, Dr. Holland enjoys spending his time outside with his wife, Vanessa, and their four children, Blake, Cody, Arden, and Walker.
As your Jacksonville orthodontist, we're proud to have an experienced doctor under our roof! Orthodontists are uniquely qualified specialists who complete two extra years of specialized education in an accredited orthodontic residency program following dental school. They specialize in diagnosing, preventing, and treating dental irregularities to align the teeth and jaw. The extra education of an orthodontist qualifies them as experts in choosing the correct treatment for their patients and also as experts in the knowledge of new and emerging treatments and technologies. Unlike dentists, orthodontists receive this extensive and specific training to be able to focus on straightening teeth and aligning jaws. The two to three years of extra training that Dr. Holland has makes him uniquely qualified to treat our patients with the highest level of expertise and care. Here a a few facts about the history orthodontics that have lead to the advanced methods we have today:
There were ancient Egyptian "orthodontists:" Many ancient Egyptian mummies have been found with crude metal bands around their teeth and cut guts to tie the teeth together.
Orthodontists were practicing in ancient Rome, too: Researchers have found gold bands around the teeth of a Etruscan women to keep their teeth in place.
Early methods weren't so comfortable: In 400 BC a Roman writer recommended regularly pushing on teeth to bring them into their proper position.
The "Father of Modern Orthodontics:" Edward Hartley Angle didn't enter the scene until the late 1800s and identified the true properties of a malocclusion, or misalignment, and addressed them with an increasingly effective set of orthodontic appliances.
Advances of the 1970s: Prior to the 70s, orthodontists would wind wire throughout the teeth to anchor the brackets. But the invention of dental adhesives allowed doctors to stick brackets to the tooth without wrapping any wires.
Nowadays we have very advanced and experienced techniques to comfortably and effectively align teeth. At Ortega Orthodontics, we're dedicated to bringing our patients the best treatment options for their lifestyle and unique orthodontic needs, without any catguts! Our entire staff is passionate about the bringing the highest levels of comfort and care to our patients throughout their treatments. We understand that a straight smile is more than just an aesthetic bonus, but it's the doorway to a more happy and confident life! A straight smile actually projects friendliness and is healthier because of its ability to help prevent jaw pain, tooth decay, breathing problems, and more.
If you're ready to schedule your first visit, give us a call! Dr. Holland will discuss all of the treatment options that are uniquely designed for your individual case and answer any questions you may have regarding your treatment.