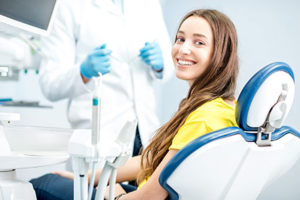 Getting ready to begin orthodontic treatment can bring up a whole host of questions. Will it hurt? How long will it take? What treatment is the best? As your Jacksonville orthodontist, we'll be able to answer any of the questions that you may have about your upcoming or ongoing treatment process. Our staff is dedicated to making you feel comfortable throughout your treatment, but we understand that you may be nervous about getting started.
Understanding the answers to some of the most frequently asked questions about orthodontic treatment is a helpful way to prepare yourself for your road to a healthier and more confident smile. Here are a few FAQ:
What is the ideal age for treatment?
Chronological age is not a factor when it comes being able to get braces, healthy teeth can be moved at any age! The American Association of Orthodontists recommends that children see an orthodontist by age 7. Even though many patients won't start treatment that young, early intervention allows orthodontists to address problems before they become more serious. Even though there are certain things that cannot be accomplished once the face and jaw stops growing, adults can still greatly benefit from orthodontic treatment.
How long does treatment last?
According to a survey by the American Association of Orthodontists, the average length of time for having braces is 22 months. Depending on the case, it can be anywhere from 6 months to 3 years. To help your treatment go as quickly as possible, it's best to follow your orthodontist's instructions for oral hygiene and keep your scheduled adjustment appointments.
Are there foods I should avoid?
In general, it's best to avoid any hard, crunchy, sugary, and sticky foods. Crunchy foods such as popcorn or apples can break your orthodontic appliances, which slows down the treatment process. Sticky foods can also cause damage because they easily stick in braces and can lead to tooth decay. Avoiding sugary foods also helps to avoid problems with tooth decay so that your teeth are healthy and strong when your braces come off.
Do braces hurt?
With advancements in orthodontics technology, treatment times have been shortened and appliances have been made smaller to increase comfort for the patient. Even though there have been many improvements in orthodontic treatment, patients should expect some discomfort and soreness for a few days after their braces are put on and following adjustment appointments. Mild pain medication and wax over sharp edges should help to ease any pain.
How often will I have to go to the orthodontist?
Once treatment is underway, patients should expect to have adjustment appointments every 4 to 6 weeks.
How long will I have to wear my retainer?
Retainers are a very important part of overall treatment. Once your braces come off, you can expect to be wearing your retainer full-time and eventually just at night. Retainers help to keep teeth in their new position and help the muscles and tissues to adapt to this new positioning. Oftentimes, retainers are worn indefinitely at night, however your orthodontist will instruct you on the best course of action for maintaining the results of your braces.
Will braces interfere with playing sports?
You can absolutely continue to play your favorite sports during your orthodontic treatment. However, if you play any form of contact sport you should most definitely wear a mouth guard to keep your teeth, gums, cheeks, and orthodontic appliances safe from harm. Your orthodontist may be able to create a custom mouth guard for you or can suggest the best type of guard to keep your teeth safe. A mouth guard will not only protect your teeth, but will also prevent injuries from soft tissue damage throughout your mouth.
As questions come up throughout your treatment, it's best to talk with Dr. Holland during your appointment, however you can always call to speak with our staff! At Ortega Orthodontics, we're passionate about helping our patients achieve the stunning, healthy smile they've dreamed of having. Whether you have questions about your oral hygiene, schedule of treatment, or diet, our team will work to make sure you're comfortable with every part of your treatment. If you're ready to start your road to a healthier smile, give us a call to schedule an appointment today!