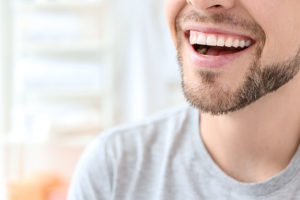 You've probably heard plenty of times that straight teeth are healthy teeth. Not only does having straight teeth project friendliness and boost confidence, but a straight smile actually has many more benefits beyond just the cosmetic pluses. There's no doubting that a straighter smile can improve your personal and professional life.
Studies support that of the adult patients that have gone through orthodontic treatment, 83% reported an improvement in their personal relationships, 58% reported improved career success, and 92% would recommend orthodontic treatment to others. In addition to the cosmetic and social benefits, a straighter smile is healthier for your oral health and your overall wellbeing. Here are ten ways that straight teeth improve your health:
Improved Oral Hygiene: The straighter your teeth, the easier they are to clean. Crooked and overlapping teeth make them more likely to trap food particles and harder to brush and floss. With crooked teeth, there are parts of the mouth that toothbrush bristles can't reach, creating hotbeds for plaque and tartar buildup.
Lower Risk of Disease: When your teeth are easier to clean you're at a lower risk for gum disease, which can lead to heart disease, diabetes, and other health issues. It's possible for oral bacteria to enter your bloodstream and affect the inner lining of blood vessels and brain. Even though the plaque on your teeth is not the exact same as the plaque that builds up in arteries and causes heart attacks, the species of bacteria that causes gum disease can also be found in artery-clogging plaque.
A Healthier Jawbone: For those with a large gap in their teeth or with missing adult teeth, that area of the jawbone is left bare. When the jawbone is left this way it grows weak and can lead to tooth loss. Straightening teeth and addressing gaps helps keep the jawbone strong and healthy.
Less Risk of Tooth Loss: The leading causes of tooth loss are periodontal disease and tooth decay. When your teeth are difficult to take care of, you're more at risk for developing oral hygiene issues.
Fewer Headaches: When your teeth are misaligned, you're more likely to grind your teeth and have a poorly aligned bite. Oftentimes, a bad bite and grinding teeth can cause chronic headaches. Aligning your teeth and jaw will help alleviate these issues.
Lower Risk for Gum and Lip Injury: With crooked teeth and a misaligned jaw, you're more likely to irritate the soft tissue in your mouth or bite your cheeks and lips. Cuts and sores in your mouth can lead to infection, but also be a serious annoyance.
Less Chipping: The more crooked your teeth are, the more likely they are to get cracked or chipped. While you should always wear a mouthguard during contact sports, having straighter teeth helps to decrease the likelihood of damage.
Clearer Speech: When your teeth are properly aligned it makes it easier to speak clearly. Oftentimes when people have a gap in their teeth it's difficult to pronounce certain words or speak without a whistle. Clearer speech is a natural confidence booster.
Better Digestion: Poorly aligned teeth compromises chewing, the first step of proper digestion. Once food is properly chewed, saliva carries enzymes to break down the food and makes it easier for the stomach and intestines to process. After patients' teeth are straightened they typically enjoy their food more.
Improved Mood: There's no hiding the fact that smiling is a mood booster. When patients are self conscious about their smiles, they're more likely to avoid smiling. With straighter teeth, patients are more confident and happy showing off their smile.
Although many patients turn to orthodontic treatment to improve cosmetic issues with their smile, there's plenty of benefits that extend beyond having beautiful pearly whites. A straight smile decreases the risk of disease, lowers the chances of developing oral health issues, improves mood, and creates a healthier environment overall. As your Jacksonville orthodontist, we believe in helping our patients be the healthiest versions of themselves. With an experienced team and caring staff, we work to bring our patients the healthiest smiles with the highest standard of care possible. We offer plenty of options for orthodontic care so that our patients can find the method that works best for their specific case and lifestyle. At Ortega Orthodontics, we're dedicated to the health of our patients. Contact us to learn more about how orthodontic treatment can work for you.